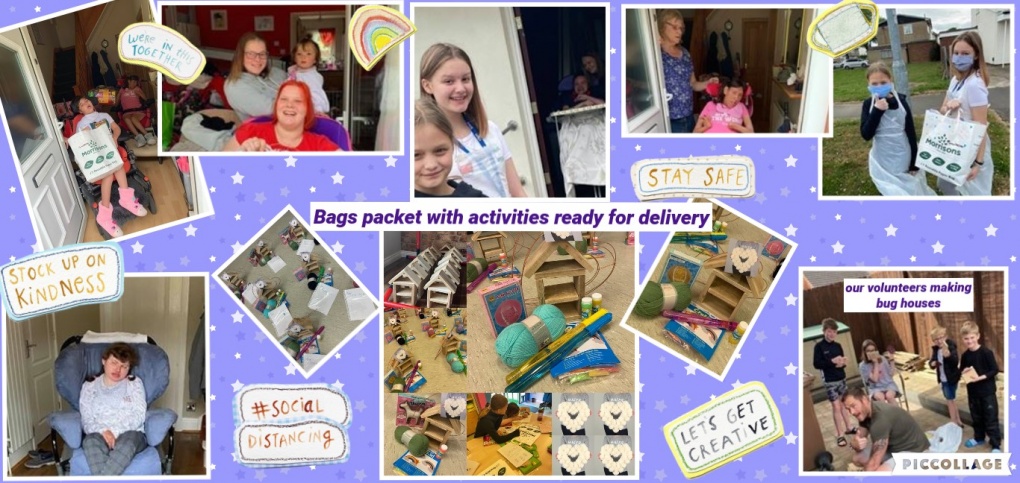 Activity bags packed full of fun are ready for delivery again, in this bag we have bubbles for sensory play and blow up sparkly balls as if we can't be on the beach, we can still have fun in our gardens.
There are lots of craft activities too with rainbow craft kits, more wool as requested for pompoms, and for those who are now expert pompom makers there is a heart shape for you to attach all your pompoms to and create a lovely decoration for your room. Some clients have unicorn painting kits, and everyone has a bug house to fill with twigs, stones, tubes and anything else you thing the bugs will like.
As you can see in the pictures we have had a family of volunteers that have been learning new skills whilst making all the bug houses, with adult supervision of course.
I hope you all enjoy this bag of activities as much as you did the last ones, we are already planning the next bag but I'm not giving any clues as to what will be in it. Thank you to all our staff who shopped, printed, researched, packed and delivered and to our bug house builders who did a amazing job.
Stay alert, stay home as much as possible and protect each other.
Big hugs
All the Platform Staff xx